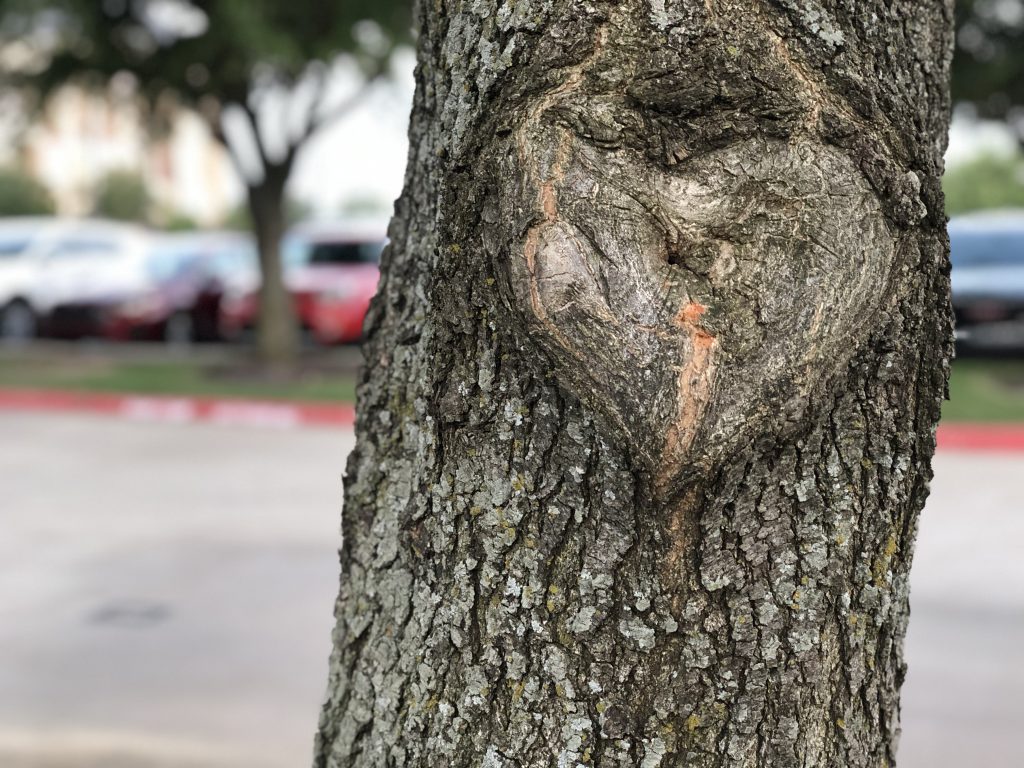 Premarital counseling is often sought by couples who recognize insight and tools will help them during their years of marriage. Officiants or pastors may require premarital counseling prior to marrying a couple. Premarital counseling is also sought by couples who are interested in receiving a discount on the marriage license fee.
Types of premarital counseling services offered at Joyful Journeys Counseling include private sessions and group sessions. JJC is a recognized Twogether Texas program provider. Completion of any JJC premarital 10-hour program yields a certificate used during the license application.
Premarital Groups
Currently, our office is building a spring group. You and your fiancé can be placed on the waitlist after completing this interest form.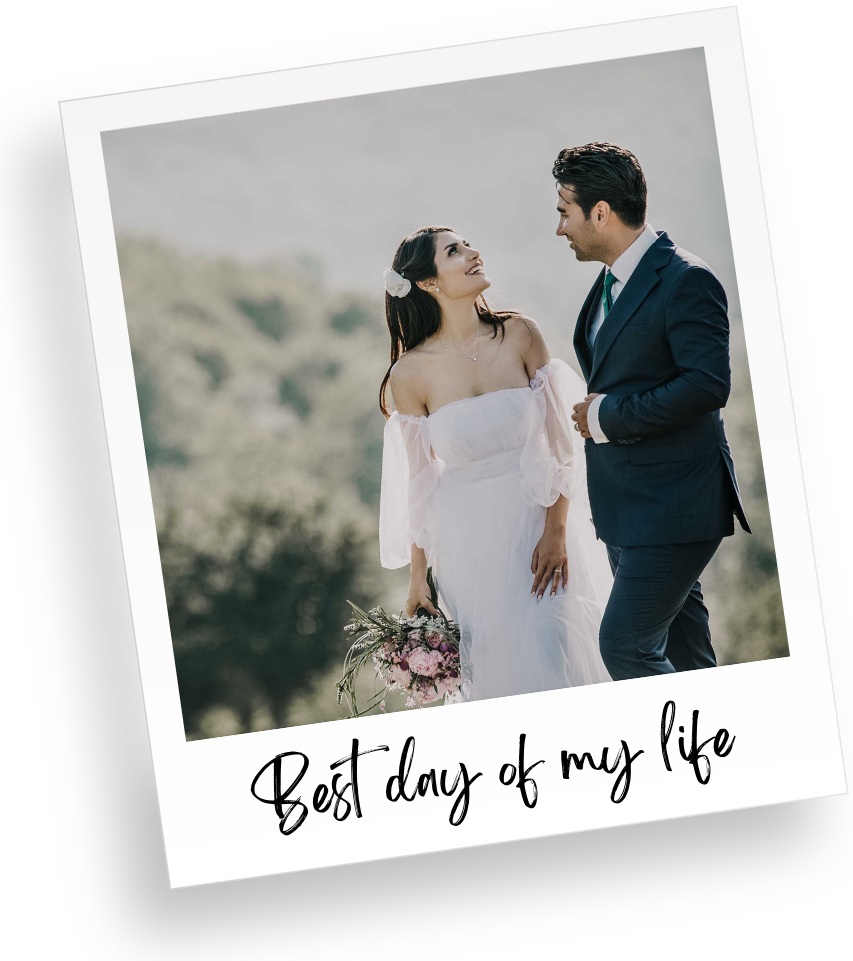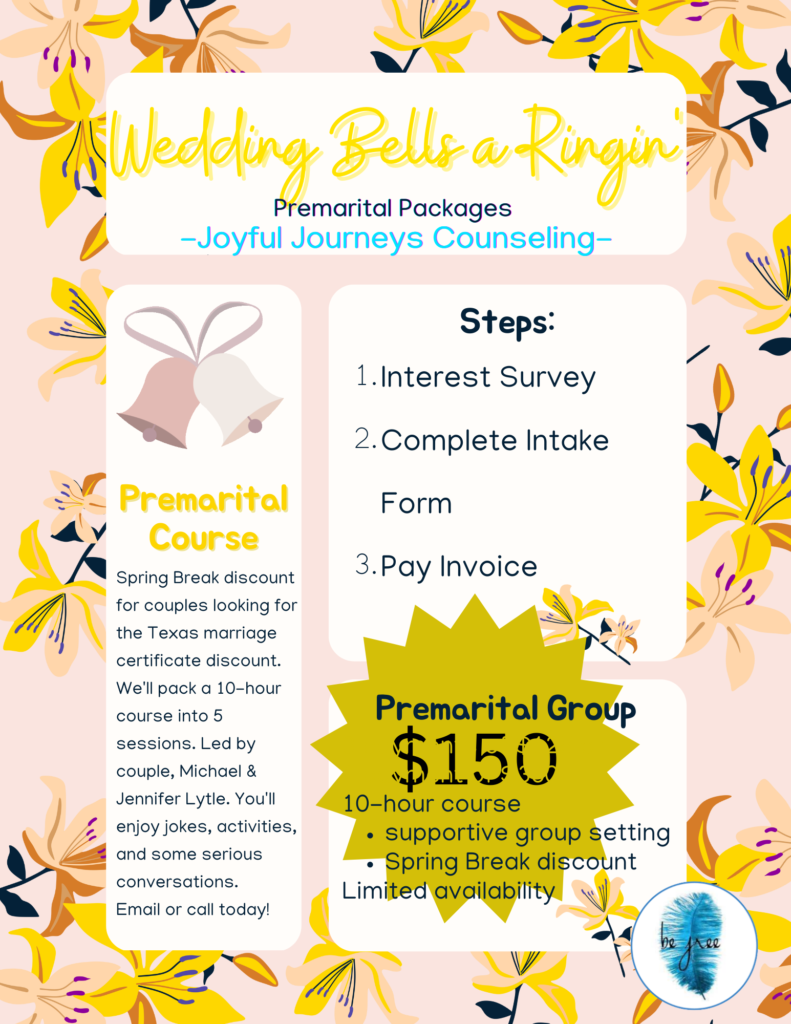 Private Sessions
Why Private sessions?
Private sessions are frequently utilized at JJC due to scheduling limitations in group services.
What will be covered?
Couples will meet with a clinician certified in providing specialized assessments. Communication styles, conflict styles, coping patterns, attachment styles, love languages, future dreams, and potential parenting plans are common topics of premarital counseling. An initial plan will be established during the consultation and the Intake, or first, appointment. After the first two sessions, your clinician will review the assessment results in session with the couple. These results will inform how sessions can be structured.
How will sessions be structured?
Session style, topic, focus, and depth can be structured or non-directive. This will be determined in collaboration between the couple and the clinician. Frequently, sessions are a mixture of client-led and counselor-encouraged topics. Some couples find that individual work complements premarital counseling and can be arranged in tandem for 45-minutes each. Otherwise, couples sessions are 50-minutes in length with the exception of a 60-minutes intake session.
Can we meet virtually?
In-person sessions are recommended for premarital and couples counseling until a strong sense of rapport and attunement have been established.
Joyful Journeys Counseling provides services to anyone in the state of Texas, and it may not be convenient or feasible for couples to attend in person. In those instances, it may take longer to identify focus areas and target goals. This is highly impacted by the commitment and investment of the couple to complete optional homework assignments and being emotionally, mentally, spiritually, and physically available for meaningful work within a session. Virtual services have statistically been shown to have similar outcomes for clients to in-person counseling and, thereby, JJC utilizes a HIPPA-compliant platform for telehealth services.
How long will we work together?
Premarital counseling services are personalized for each couple as part of the high-touch approach and non-directive philosophy which underscores all care provided at JJC. During the consultation and the Intake appointment, the couple's wedding date will be accounted for in the treatment plan. JJC suggests that couples come for counseling with a 3 to 6-month minimum window prior to scheduled nuptials. Clinicians at JJC will work with couples to provide services within the desired time period. A loose suggestion for couples is a 3-months commitment. This typically will yield a minimum of 10 sessions and a maximum of 16 sessions. This time frame offers a reasonable amount of time to identify areas of strength and areas for improvement, build and practice plans to increase intimacy, strengthen positive communication, and identify and build Love Languages.
It is important to recognize that there is no requirement or regulation for the length of time spent in counseling. Understanding individual needs and communicating them clearly will support the clinician in providing preferred services. Asserting oneself in counseling is an excellent opportunity to strengthen this skill and increase overall satisfaction with services. While there is no minimum or maximum time period for counseling in general, please understand that couples who wish to qualify for the Twogether in Texas program are eligible to receive a certificate after completing 10 hours of services.