Are you concerned by some of the behaviors your child displays? Would you like to have a more positive relationship, for a longer period of time, with your child?
Joyful Journeys Counseling offers two options for parents who recognize their role in the recovery and health of their teen. Individual counseling is one option for those who would like high-touch and individualized support. Parents processing family-of-origin, trauma, and attachment issues may be better candidates for individual counseling as well as those who have immediate needs and/or strict scheduling limitations. Typically, this arrangement would include feedback and guidance from the client about the direction and scope of counseling. Please let your clinician know if you prefer a more directive and structured plan for working through specific goals. The more clarity a client has in identifying and communicating needs, the easier it is for a counselor clinician to provide the desired outcome. Two examples follow.
"By the end of December, I want to have a plan for how my husband and I will split up the household management and chores. By the middle of January, I would like to have communicated that with him."

"I have $550 reserved for counseling services. I want to have a plan of action for being at home with my kids by 4 p.m. everyday without reducing my income."
While individual counseling is a great option for those with childhood issues to explore, scheduling constraints, and a preference for individualized or non-directive support; parent support groups are available at least once a year. This approach provides structured psychoeducation and incorporates homework with pre-determined group goals.
Tired of negotiating and wish your child would obey?
Desperate for a meaningful exchange instead of two-syllable responses?
Build Beautiful is an online group designed to increase communication, cooperation, & connection between you and your child/children. Led by Licensed Marriage & Family Therapist, Jennifer Lytle, this group offers takeaways and tools for empowered parenting. She has led numerous parent (and parent-to-be) groups since 2017. Jennifer partnered with Great Parenting Simplified and completed training as a Certified Parent Coach. Founder of Joyful Journeys Counseling, a private practice in Austin, TX, Jennifer aims to support clients as they build beautiful lives and families.
By the end of our 5-weeks program, you will understand and be equipped with tools to increase these components of a rich parenting relationship. Sessions will include the following topics:
Connection
Connection with our children is the best part of parenting. It's the answer to the question, why. Why do we work hard? Why do we persevere when the proverbial fruit is sparse or bitter? Enjoying the company of our offspring and genuinely knowing our sons and daughters is a beautiful experience. I believe all parents deeply desire this lifelong relationship.
Communication
Communication is a skill that every individual benefits from studying. In a technology-driven world, communication bespeaks finesse and refinement. It's challenging to navigate eye-contact expectations and ideas about respectful table talk between digital natives and digital immigrants. These exercises and tools are a gift to develop improved relationships overall—what a return on investment.
Cooperation
Lastly, when our communication and connection have increased, cooperation yields. Often, parents stamp around for cooperation (i.e. yelling, demands, nagging.) Cultivate partnership through refined communication and strengthened bonds. Eliciting cooperation is what empowered individuals do naturally. This program aims to develop and encourage that empowerment.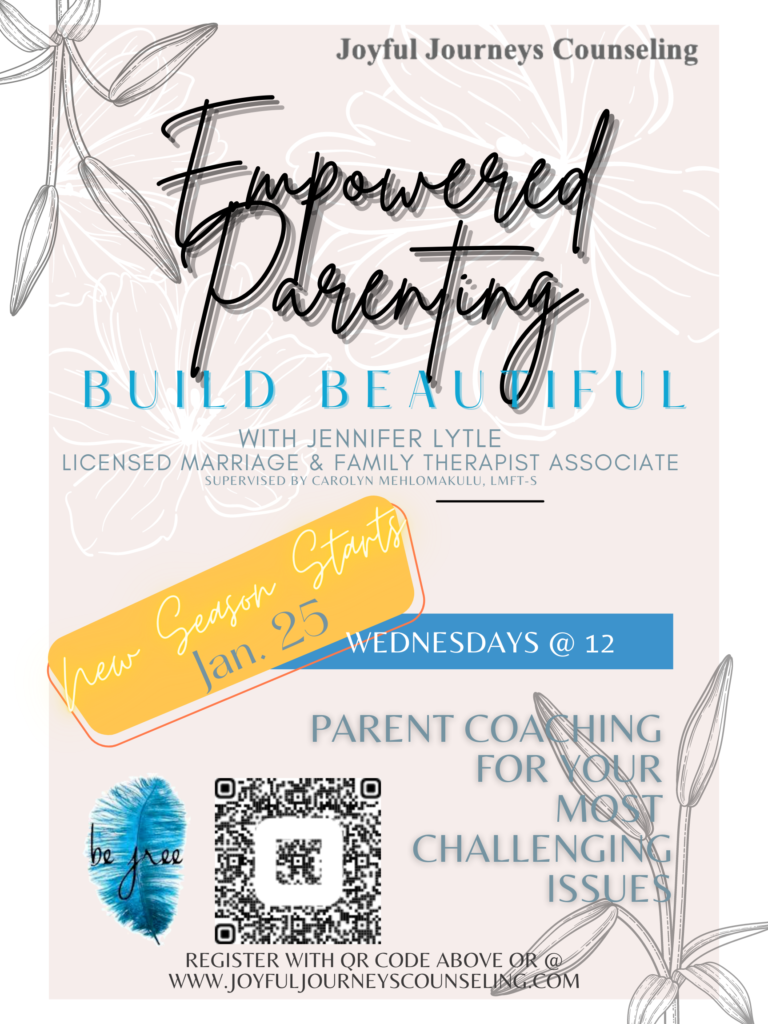 Join Empowered Parenting for a 5-week support group today!
Use the QR code or register online here. You can also email hello@joyfuljourneyscounseling.com with the subject, PARENT CLASS, or call our office at 512.761.5418.