An Ageless Interpersonal Communication Plan
My absolute favorite course in graduate school was a communications course. Interestingly, I did not need this credit and took it as an elaborate step towards a laborious delay of the internship process. The material remains handy despite not being a graduation requirement. As a full-time clinician, I regularly pull out and refer to Peterson's (2015) communication guide in his book, Why Don't We Listen Better? Communicating and Connecting in Relationships. Sometimes, that formal approach doesn't work. In those instances, I offer Apples of Gold.
This ageless interpersonal communication plan was developed when I worked as a school counselor. Families and friends can benefit from the steps towards apologies and forgiveness. Feel free to download this visual guide for more healthy, positive conversations. Each step is discussed in detail below.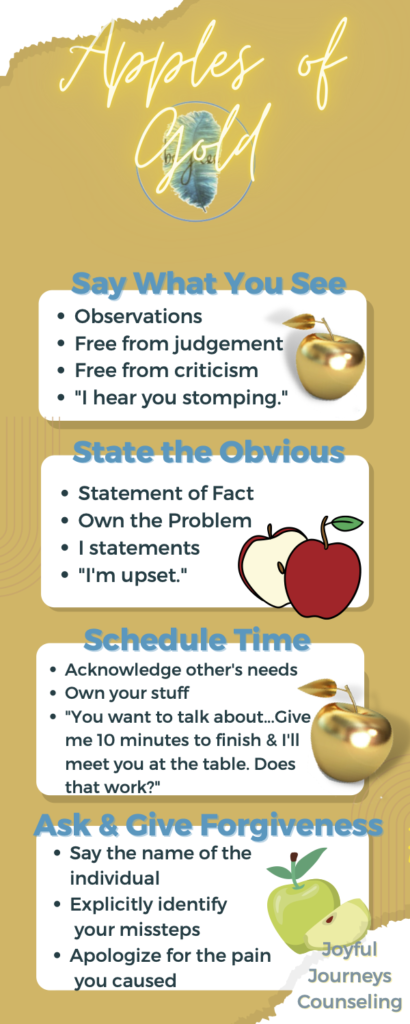 Say what you see
This observation technique is a Montessori-style method of teaching. Observation juxtaposed to judgment conveys: I see you; I understand you; you're important; what you do matters to me.
Examples:
"I see you throwing the phone into the chair."

"I hear a loud voice."
State the obvious
This basic form of honesty (with self and others) aids in connecting the body and soul which brings one into the present as opposed to depression/anxiety which take one either into the past or projected future.
Examples:
"I feel angry."

"I was sad when I called you and there was no reply."
Decide on a time
Agreeing on and planning for a time to discuss hot topics gives each party a sense of respect and compromise. Win-win!
Examples:
"Right now, I'm washing dishes. In five minutes I can talk about this. Will you be in the living room?"
"I feel upset right now and need to calm down. I'll be outside for ten minutes and then I need to eat. Can we talk tonight at the dinner table?"
Apologize & Forgive
I didn't realize how powerful this simple step was until I worked at an elementary school. As the school counselor, my students ranged from PK-6th grade. Often, my time was divided and I had to quickly find a way to make things better for some of my older students. I encouraged "problem" students to apologize for specific behaviors that had created trouble for them. As a licensed counselor, I understand the intricacies and complexities of ongoing issues (like yelling out to address an insult), but I had to find a method for students to navigate their world. Ownership of actions worked well for students and teachers alike. It's a tried and true form of relational recovery.
Examples:
"Jeff, I'm sorry I threw the phone."
"Sarah, I'm sorry I didn't reply when you called for me."
Though this plan is not based off Scripture, the title is from one of my favorite scriptures about the power of our words. The Bible describes well chosen words as apples of gold in settings of silver (please see Proverbs 25:11).